RESHAPING NATURAL RESOURCE
MANAGEMENT
IN PAPUA NEW GUINEA
How a locally tailored Management Effectiveness Tracking Tool (METT)
is helping communities better manage their Protected Areas
For the past two decades, Kilipak (not his real name) and other customary landowners in Papua New Guinea's (PNG) Pomio district have found it increasingly difficult to protect the coral reefs and forests that surround them.
"The Wildlife Management Area is surrounded by development," Kilipak explains. "There is a Special Agricultural Business Lease on one side, and an oil palm plantation on the other." Added to this, large-scale logging has stripped Pomio of about 10% of its tree cover, most of it in primary forests. The Tavolo Wildlife Management Area (WMA), set up in 1997, is a mere 20 square kilometres, not large enough to fend off ecosystem threats on this scale.
"Biodiversity is important for subsistence purposes and for tradition and custom," says Kilipak. For as long as anyone can remember, local communities' way of life and, indeed, survival has been rooted in a symbiotic relationship with the local ecosystem – the landscape sustains the community, while the community preserves the landscape through Protected Areas (PAs) or WMAs.

PNG's cluster of islands represents a mere 1% of the earth's landmass but is home to an estimated 7% of all its plant and animal species. These are lands of virgin rainforest, rich mineral deposits, volcanoes and delicate coral reefs. Customary landowners like Kilipak own over 95% of the land and have traditionally been its custodians, though what was once an easy task is now beset by challenges such as population growth, climate change and pressures from extractive industries.
From land challenges to data challenges
The growing need for effective tools and new approaches for natural resource management (NRM) is being met by PNG's NRM Hub initiative, which is already helping to centralise environmental data and make it accessible to stakeholders everywhere.

One tool in particular is finding great use – the Managing Effectiveness Tracking Tool, or METT, a global framework customised by the United Nations Development Programme (UNDP) to meet PNG's unique environment and cultures.

This is the story of how UNDP, working with PNG's Conservation and Environment Protection Authority (CEPA) and the Secretariat of the Pacific Regional Environment Program (SPREP), developed the PNG-METT tool and worked with local communities to help them assess how effectively they were managing their natural resources. It is a story with a strong message: people armed with better data can ensure more effective NRM.
METT evaluations add value to NRM
What is the METT?

The Management Effectiveness Tracking Tool, or METT, was designed by the World Bank and WWF as a systematic method of assessing whether PAs are being effectively managed. Since its first field tests in 2001, the METT has been adapted and used globally, becoming the world's most widely used tool for assessing protected area management effectiveness (PAME).

The METT, required by both the Global Environment Facility (GEF) and UNDP reporting processes, was first used in PNG in 2016. At the time, the tool was localised to meet the unique culture and environment in which it was operating. The questions and technical terms in the modified tool – now known as PNG-METT2 – were rephrased to suit local literacy levels. The tool was also adapted to recognise the dominance of customary land owners as custodians of PAs in PNG, rather than formal ranger programs as seen in other countries, and explored perceptions of benefits to establish a basis for management planning.

Over time, through evaluations of Protected Areas Management Effectiveness (or PAME), the localised PNG-METT2 has delivered a more granular picture of the situation in PAs, including their current state, future threats, values and needs. In addition, workshops run for the PNG-METT2 project have helped generate a trove of research, maps and information on PAs. The PNG-METT2 studies of 2016-2017 led to management plans for all PAs and also several policy changes.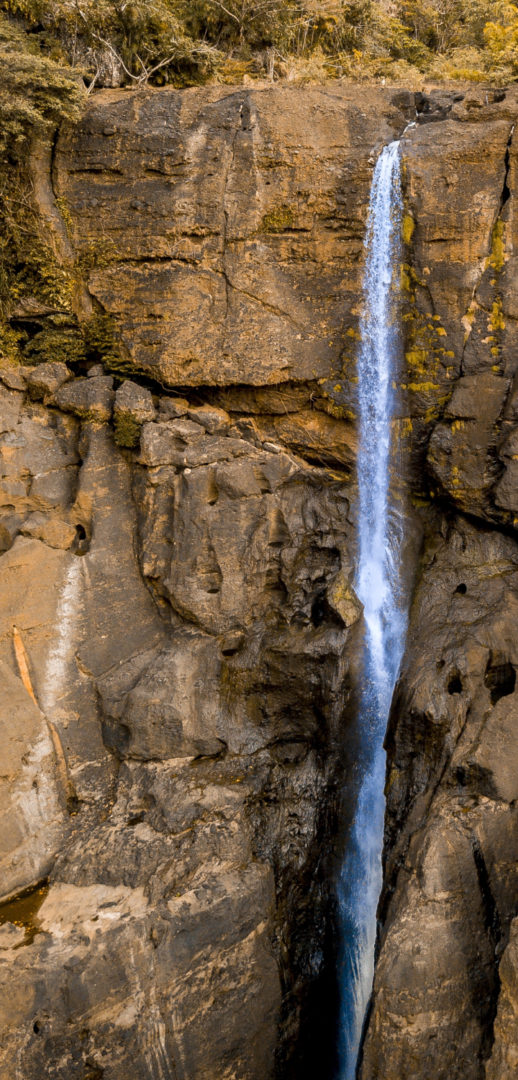 95%
of PAs are threatened by CLIMATE CHANGE
The effects include extreme temperatures, storms and flooding, drought, food insecurity, rising sea levels and coral bleaching in coastal communities.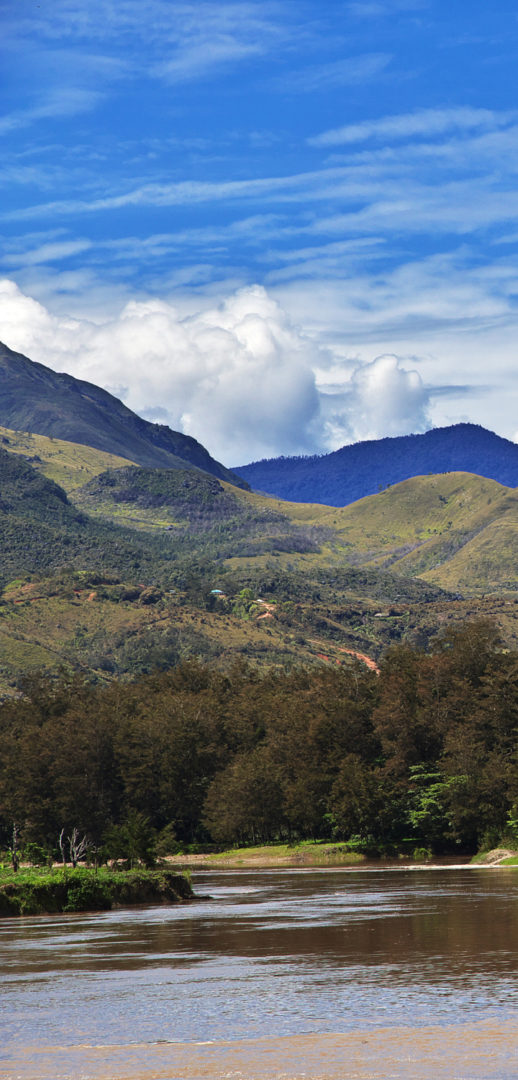 80%
of PAs are threatened by LOSS OF CULTURE
Concerns are mounting around the loss of traditional understanding of the environment as well as the loss of traditional skills, ceremonies, practices, cultural sites and respect for elders.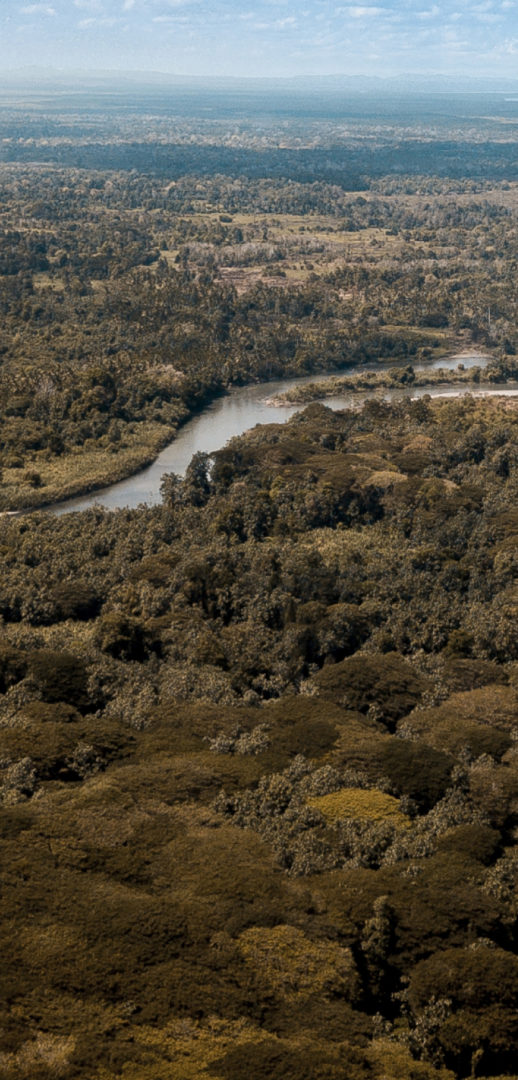 90%
of PAs are threatened by INVASIVE SPECIES
In many areas introduced fish are having a severe impact on local species. Weeds also dominate the landscape where there has been clearing or disturbance.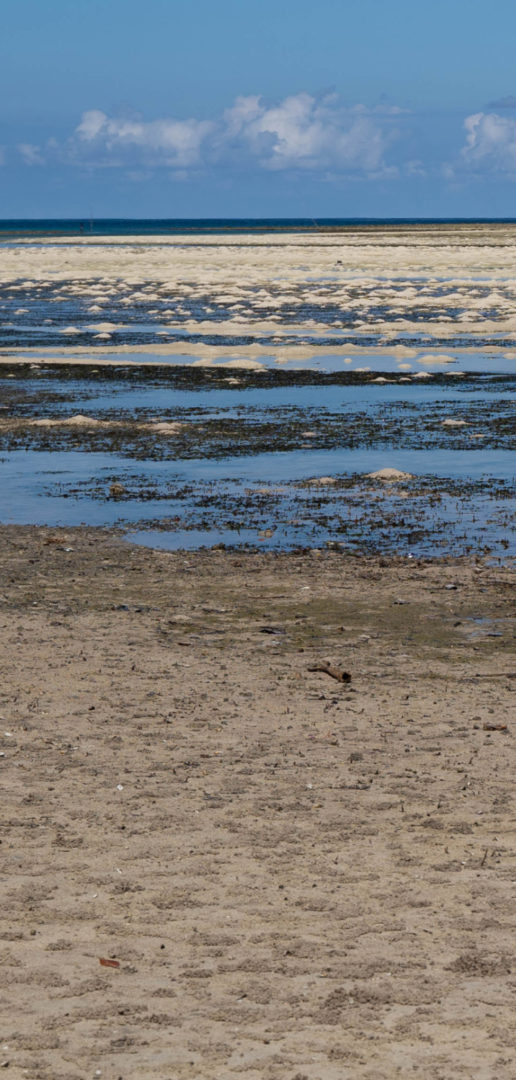 70%
of PAs are threatened by POPULATION INCREASE
The growing population, which includes migrants, has increased the need for housing and food and placed pressure on natural resources.
Protected Areas: Safeguarding nature's wealth

The idea of establishing PAs came from customary landowners who wanted to protect their lands, seas and ples masalai (sacred places) from encroachment by commercial mining and logging interests. "My father came up with the idea of a sanctuary and convinced our community members," says one customary landowner in the region of the Balek Wildlife Sanctuary. "Logging companies were interested in the land but we recognised the importance of the area for wildlife. We wanted to keep the land protected for our children."

Today, the country has 61 designated PAs. Despite the clear progress, this represents a mere 4.8% of PNG's terrestrial area.

Back in 2006, a PAME assessment found national PA management to be patchy and ineffective, recommending that it be strengthened. Since then, a series of projects supported by the GEF and implemented through CEPA and the UNDP has led to a stronger, more modern policy and legislative framework, including the PNG Policy on Protected Areas, which forms the basis for the Protected Areas Bill. The policy commits to regular PAME assessments as a pathway for improving the overall network of PAs. Protected Areas: Safeguarding nature's wealth.
Background | PNG Protected Area Timeline
The main reason for establishing the Wildlife Management Area, or WMA, was to stop land-grabbing. Some people advised our leaders that including the land within a Protected Area would stop land grabbing and protect the megapodes. We want to protect our customary values and traditions and to use the WMA to obtain customary materials for ceremonies and other uses.
Customary landowner, Garu WMA.
HISTORY OF UNDP INVOLVEMENT IN PNG PROTECTED AREAS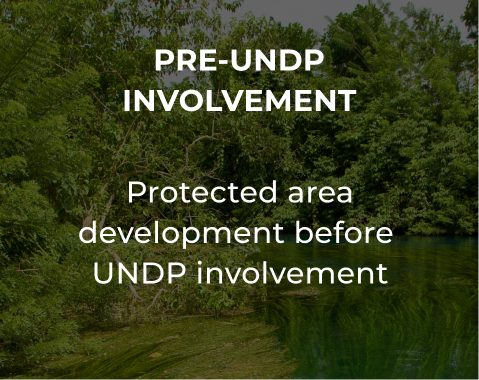 Development of first protected areas including nearly 1 million ha of Protected Areas declared between 1975 and 1980
Slow decline due to withdrawal of government and then NGOs from most protected areas
By 2010, no coordinated management or programs for protected areas in PNG; little knowledge, few resourced areas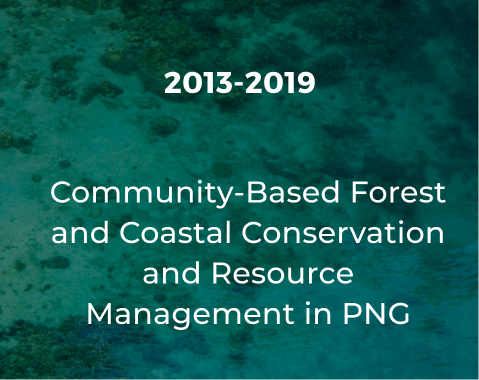 Development of Protected Area Policy, Implementation plan and revised protected area types
Drafting of modern legislation
METT evaluation across 58 protected areas, greatly increased contact and knowledge base; renewed commitment
The Protected Area Bill was initiated
Land use and conservation planning for East and West New Britain, and livelihood assistance trials
Updating of the national conservation priorities for terrestrial and marine areas
Beginning of cooperative work with provincial governments
Scope for financing mechanisms for protected areas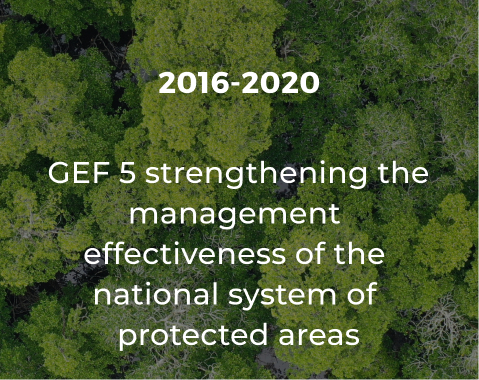 Capacity assessment and development of action plan to improve CEPA's capacity in protected area management
Development of policies and processes for managment, including working with provincial government and communities
Support to pilot sites for enhanced management and livelihood support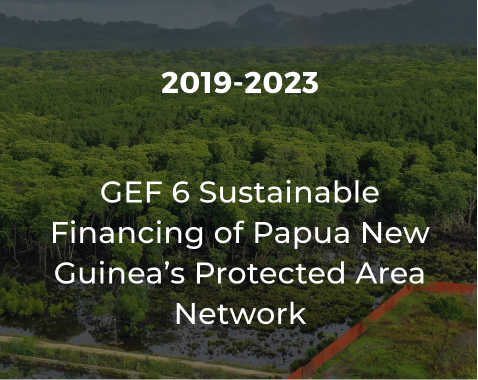 Enabling conditions for improving the sustainability of the protected area system
Establishment, operationalization and mobilization of funding for a Biodiversity and Climate Fund
Enhanced management capacity and financial sustainability of individual protected areas
Methodology
ADAPTING TO CULTURE, UNDERSTANDING VALUES

The PAs in PNG have been evaluated twice in recent years – first in 2016-2017 and again in 2021. This has included refining and localising the methodology, training facilitators and recorders and conducting workshops to collect data and document findings.
LOCALISING METT:
The customised METT questionnaire, renamed PNG-METT, and in the latest version becoming PNG-METT2, has been tailored to meet local levels of literacy and knowledge of English, with questions being reworded to acknowledge the dominance of customary land ownership, the symbiotic relationships between Papua New Guineans and their environments, as well as their benefits and values.
CONDUCTING WORKSHOPS:
The METT assessment workshops were attended by community members and PA management committees. CEPA and UNDP, who supported the assessment, also facilitated and recorded the process.
DISCOVERING WHAT COMMUNITIES VALUE:
As part of the workshops, participants were asked to draw what they like about their PAs. The resulting images revealed what residents consider to be culturally and socio-economically valuable – including biodiversity (forests, coral reefs, fish, mammals, birds), clean water (for drinking and as habitat for fish) and cultural and spiritual traditions. The benefits listed included food, timber, medicinal plants and livelihoods.
We want this to be a place where our children can learn about their environment. The sanctuary has kwila trees, butterflies and herbal plants, as well as species such as birds of paradise, crocodiles, pythons and scorpions. People come to the healing waters of the sulphur springs to cure themselves of illnesses like malaria and leprosy.
Balek Wildlife Sanctuary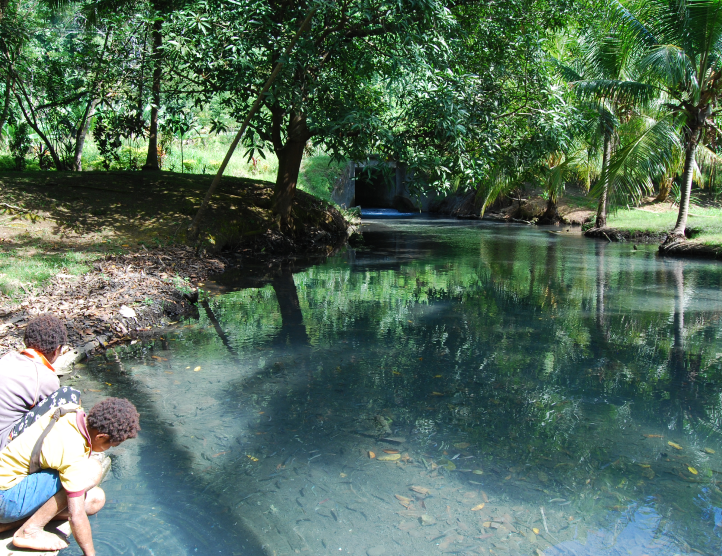 We have two legendary healing stones made of coral rock on the reef. People believe they can heal their sores and other sicknesses by washing themselves in the waters around the stones.
Sinub WMA, Madang Lagoon
There is a sacred place in the Wildlife Management Area for wallabies. They have a special meeting place and a leader, who is usually smaller than the others. All the wallabies gather to listen to the small wallaby.
Garu, WMA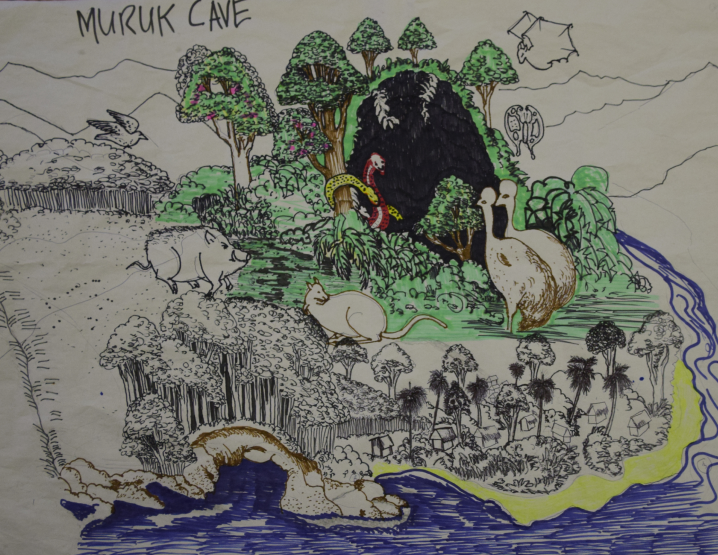 Outputs
A WEALTH OF MATERIALS FOR FUTURE ASSESSMENTS
The development and roll-out of the PNG-METT complemented and updated information from the assessment done a decade earlier. The results provide a rich compendium of resources and materials that will make future assessments more transparent and efficient. These include a facilitator's guide and information package, Excel spreadsheets for recording, a glossary and a checklist to help prepare for the METT assessment. The tool also automatically populates reports to comply with the GEF's METT requirements. All of the information is accessible from the final report and outputs available on PNGBiodiversity.org.

In 2021, government staff were trained to conduct assessments, participating in workshops as well as a self-paced online course.
A MOBILE DATA COLLECTION APP TO HELP UPDATE BASELINE INFORMATION
The Lukim Gather mobile data collection app, which is free and open source, has been developed to assist protected area communities in monitoring their natural resources and provide annual baseline updates to CEPA, who in accordance with policy aim to assess protected areas once every three years.
PROTECTED AREA FACTSHEETS MAKE DATA ACCESSIBLE
The wealth of data gathered through the METT assessment is now available in the form of summary factsheets on each PA. In a country where little or no information was available on PAs, this is a priceless development. These factsheets are available from PNGBiodiversity.org for download and sharing.
People differentiate themselves based on the environments they come from. The natural environment has influenced the life of local people for thousands of years. As a Papua New Guinean, my natural environment gives me my identity.
— Participant reflection
Local cultural and traditional knowledge should be harmonised with science to conserve the earth's biodiversity, and enable the ecosystem to continue providing the services that support our survival.
Findings
The findings from the national METT assessment process offer a window into the strengths, gaps, threats and opportunities in NRM in PNG. They also provide valuable insights into the ties that bind Papua New Guineans to the land that surrounds them.
SEEING VALUE IN NATURE
Participants shared the great benefits and value found in their PAs, in particular the biodiversity, freshwater, traditions and customs, and tourism.
GOOD, BUT NOT ALL GOOD
About 73% of customary landowners estimated their PAs' values to be in "good" to "very good" condition. It is important to note that they represented only 45% of PNG's Protected Areas, implying that over half of the PAs may need more attention.
Outcomes
In addition to renewed commitment and deeper dialogue, the process yielded a range of outcomes with long-term benefits.


The first-ever centralised baseline was established, invigorating the network of PA communities.
A deep understanding of PNG's situation has been created through the words and experiences of community members.
Management standards are continuing to improve even five years later as CEPA staff and communities continue to collaborate.
Relationships improved between government staff and customary landholders, after years of limited CEPA engagement with PA communities.
Community commitment to better management and expansion of their PAs was renewed, along with interest in funding for training, conservation and tourism.
Information was recorded and shared as participants rediscovered knowledge that had been lost and added new research and spatial information.
CEPA staff learned how communities manage their environments, often with limited resources.
Over 45 draft PA management plans have been produced, which identify values, targets, threats, opportunities, key actions and strategies. METT data has also helped to assess the competence of PA management committees and rangers, and to develop specific plans for community engagement and capacity building.
Increased commitment from CEPA has come from better understanding of the motivations of landowners for protecting their natural heritage. This led to CEPA's collaboration with UNDP to apply for GEF funding. As a result, a Biodiversity and Conservation Fund is being established to help improve PA management.
The WMA is our 'mama graun' (mother earth). It has forests, Raggiana birds of paradise, tree kangaroos, cassowaries… Our survival depends on our association with mama graun and we need to protect her land, forests and animals. We want to extend the WMA so that there is no more destruction of the forest.
– Mojirau WMA
LESSONS
MAKING THE NEXT ROUND EVEN BETTER

Analysing the METT workshop process yielded valuable insights that could enrich future assessments and make them more efficient. Some key lessons included:
Patience, time and outstanding coordination are a must for conducting a METT assessment. Close attention to detail is needed at every level, from crafting the ideals and objectives to logistical issues such as the safety and welfare of participants from remote areas.
Smaller assessments in intervening years would be quicker and cheaper. The next big nationwide METT assessment could then be used for updating management effectiveness scores and mid-term GEF reporting, as well as for appraising changes in threats, values and investments.
We need gender opportunities in education and training, and equal representation of women on Protected Area management committees. Women should be trained to improve their leadership skills. This requires men to be included so that women's needs are considered.
Torricelli (proposed Conservation Area)
Including women requires particular effort. To ensure women's participation, facilitators should consider advance visits to advocate with communities. Since women are restricted by social norms in some places, exclusive women's sessions may also be considered to help them speak freely.
A wealth of support materials now exist for future workshops. These include a facilitator's guide with an agenda, an Excel spreadsheet for reporting, workshop checklists and a glossary of terms. A curriculum for self-paced online learning was produced for training government staff.
Including scientific PAME data would enrich METT information. Scientific evidence from PAMEs such as drone images or time series can greatly augment and validate subjective and opinion-based METT data about habitats and biodiversity.
CONCLUSION
TURNING KNOWLEDGE INTO ACTION

Creating knowledge has consequences. In particular, the 2016-2017 assessment in PNG led to the creation of the PNG Biodiversity and Climate Fund (BCF), which will address a long-standing need for a transparent, independent channel through which communities can apply for financial support for implementing environmental projects and solutions. In addition, a management planning process is in place, designed to ensure that the information and recommendations are put to work to improve NRM in PNG. 
 
Continued, in-depth discussions of what was learned will help UNDP develop priorities that will help the organisation deliver consistent, long-term support and adaptive management to Papua New Guinea.
More information on the PNG-METT2 and PNG's Protected Areas can be found at pngbiodiversity.org.